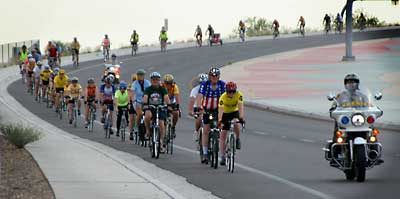 MORE THAN 80 Green Valley cyclists, led by Bill Adamson (yellow jersey), rode through town in the second 'Ride of Silence,' an event established to honor those cyclists who have been killed or injured on the road.
Wednesday's "Ride of Silence" brought together over 80 Green Valley area cyclists for a very emotional and cathartic event.

After debuting in Green Valley last year to honor the passing of local cycling enthusiast Fred Hetting, the "Ride of Silence" is an international event established to honor those cyclists who have been killed or injured by motorists and to raise awareness for bicycle safety. "This is an event that means a lot to a lot of people," said cyclist Bill Katzel. "It's fantastic to see such a great turnout." The ride began at 6 p.m. outside of the Green Valley Recreation East Center.

A half-dozen members of the Pima County Sheriff's Motor Unit escorted the riders along their route, which took the riders in a loop around Green Valley.

"This was the first 'Ride of Silence' I've taken part in, and it was something I'll never forget," said Fran Licciardiello, founder of "The Ride," a Green Valley cycling group that explores the nooks and crannies of the area.

The "Ride of Silence" began in May 2003 in Dallas when Chris Phelan organized this ride in memory of his friend Larry Schwartz. Since that first ride, the event has grown to include nearly 400 communities in six different countries. "The goals of this ride are to honor cyclists who have been killed or injured, raise awareness to the existence of other cyclists and to ask that we all share the road," said event organizer Chuck Hill.

Bill Adamson led the seven-mile ride, which required that all of the riders wear helmets, with the option of wearing black arm bands. Riders pedaled no faster than 12 miles per hour and rode in single file. "It's quite a sight when you see all these cyclists silently pedaling down the side of the road," Katzel said.

The Santa Cruz Bicycle Advocate Committee and Green Valley Bike and Hike sponsored the event.
nprevenas@gvnews.com | 547-9747