By Chuck Hill - Special to the Green Valley News

Last Wednesday, almost 20 local bicyclists participated in the classroom session of a Street Skills for Cyclists program. On Saturday, the same group worked on skill development and then practiced those skills by
cycling around Green Valley while purposefully encountering traffic situations meant to reinforce cycling fundamentals.
This reinforced the concept of driving your bicycle as if were a motorized vehicle. Some time was also spent on bicycle maintenance and adjustments.

The program curriculum is developed by the League of American Bicyclists and the classes are available in most parts of the country. Programs are conducted by qualified LCI personnel (League Cycling Instructors).
Leaders for the classroom session were Matt Zoll, Pima County Department of Transportation, and local resident John Pilger. Zoll is the Pima County Bicycle and Pedestrian Coordinator and works closely with municipalities and organizations to improve facilities for alternative transportation methods. Pilger had earlier attended an intensive training program to become qualified as an LCI. Sheila Foraker, Education coordinator for Perimeter Bicycling, led the skills and road riding session on Saturday.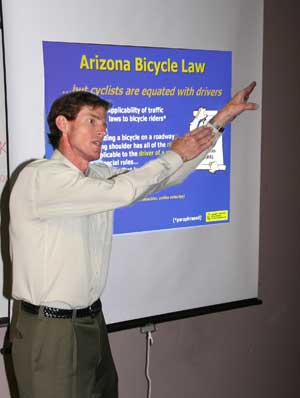 Matt Zoll reviews bicycle regulations with
class participants during last week s Street Skills for
Cyclists program
The bike education gives cyclists the confidence they need to ride safely and legally in traffic or on the trail. The course covers bicycle safety checks, fixing a flat, on-bike skills and crash avoidance techniques and includes a student manual. Recommended for adults and children above age 14, this fast-paced, nine-hour course prepares cyclists for a full understanding of vehicular cycling. It shows you how to drive your bike when you already know how to ride your bike.

After the Saturday session, one participant commented that he was not previously aware of the various techniques that can be used to assure safety when cycling in traffic and that he will now feel much more comfortable when using his bike in traffic.

For more information and to register for these classes in Tucson or Green Valley, please contact the
Pima County Bicycle and Pedestrian Program at 243-BIKE (243-2453) or Pilger at 648-7205.
Also see www.BikePed.Pima.gov.

Chuck Hill is a Green Valley cycling safety advocate.