Cycling has grown exponentially throughout Southern Arizona in recent years, and some riders might not know all of the paths available to them.

Visitors to the area ó and even long-time residents ó may question where roads are for them to pursue safe and enjoyable cycling. Now there is an easy answer to that and other questions with the publication of the Santa Cruz Valley Bike Map.

The Santa Cruz Valley Bicycle Advocate Committee has spent the past year developing this cycling aid and is proud to announce that it is now available. The area covered goes from the south of Green Valley to the north of Sahuarita, with an inset that shows Tubac.

Roads are broken down into three categories: those with striped shoulders, neighborhood roads, and (for more experienced riders) roads that may not have a striped shoulder. Planned road improvements for the next two years are also identified.

The two-sided map includes many tips for safe and responsible cycling while you are on the road. The map is 11 by 17 inches and folds to a convenient size that goes into your pocket, so a cyclist can bring it along on any ride.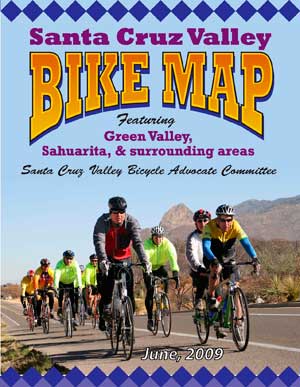 An online version can be viewed and printed at www.scvbac.org.

Hard copies of the map may be found at the two Green Valley bike shops, any of the six major GVR centers, the Green Valley Community Coordinating Council office, the Sahuarita Town Hall, the Green Valley Sahuarita Chamber, the Tubac Chamber and the Tubac Visitors Center, and the Green Valley and Sahuarita libraries.

Still canít find a copy? Write to webmaster@scvbac.org.

The map was modeled after the popular Tucson Metro Bike Map and assistance was provided by the Pima County Department of Transportation.